Thank you to everyone who participated in the 2017 Kingston Artist Soapbox Derby!

Aug. 20th, 2017!
People's Choice Grand Prize are $1000 in single dollar bills!
And the winners are…drumroll, please…
Peoples Choice
A Tribute to Gene Wilder & Willy Wonka by Possibility Studios; built by Martin Elting, Julia Pierce, Tom Harvey, Cole Elting, Tom Henning, and Kathy Hughe.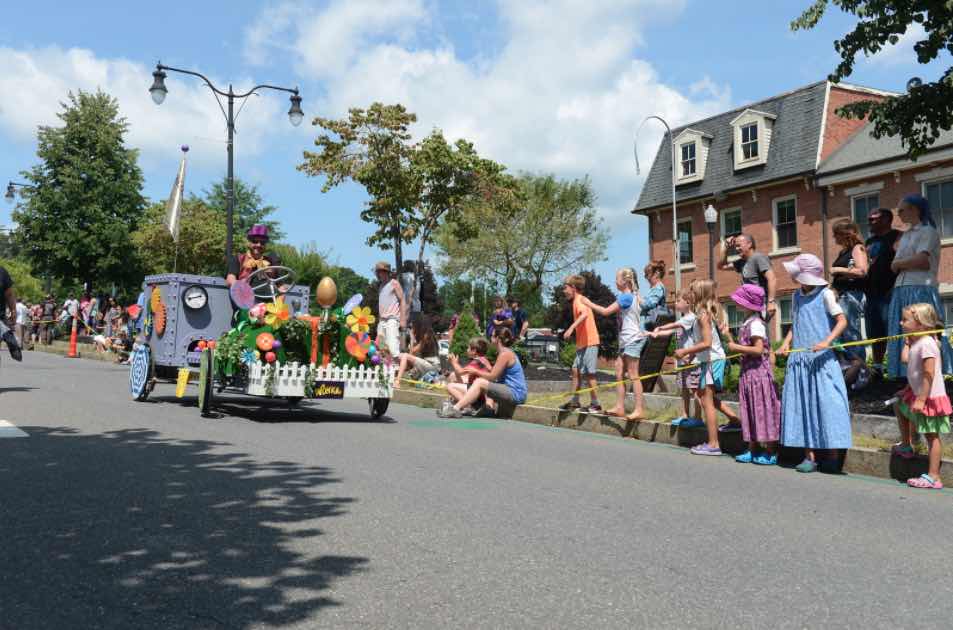 Kids First Place
Police Truck by Alexander and Mom's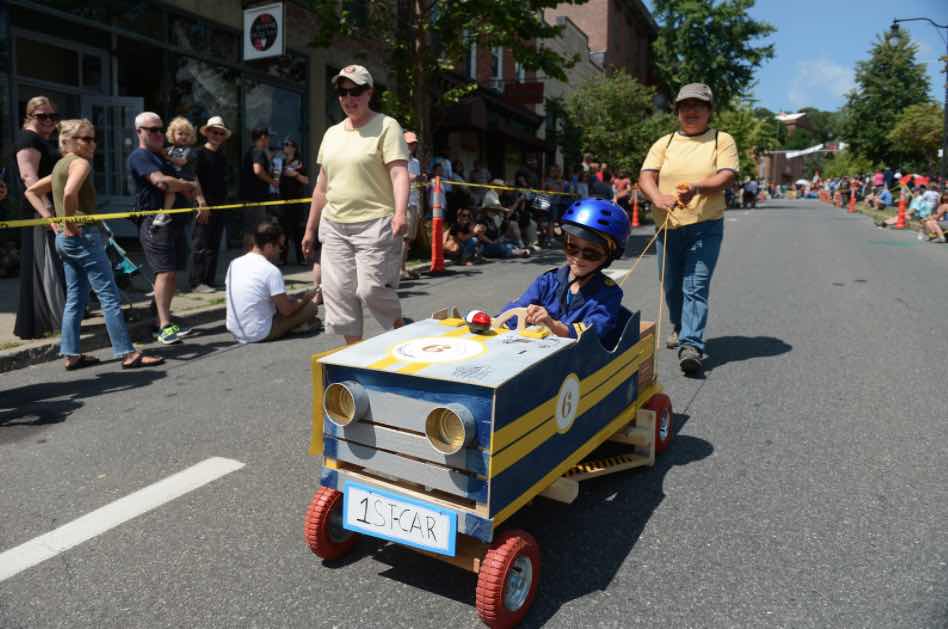 The Theme: Tributes Award
Horticultural Horrors by Kevin Muth and Marker Snyder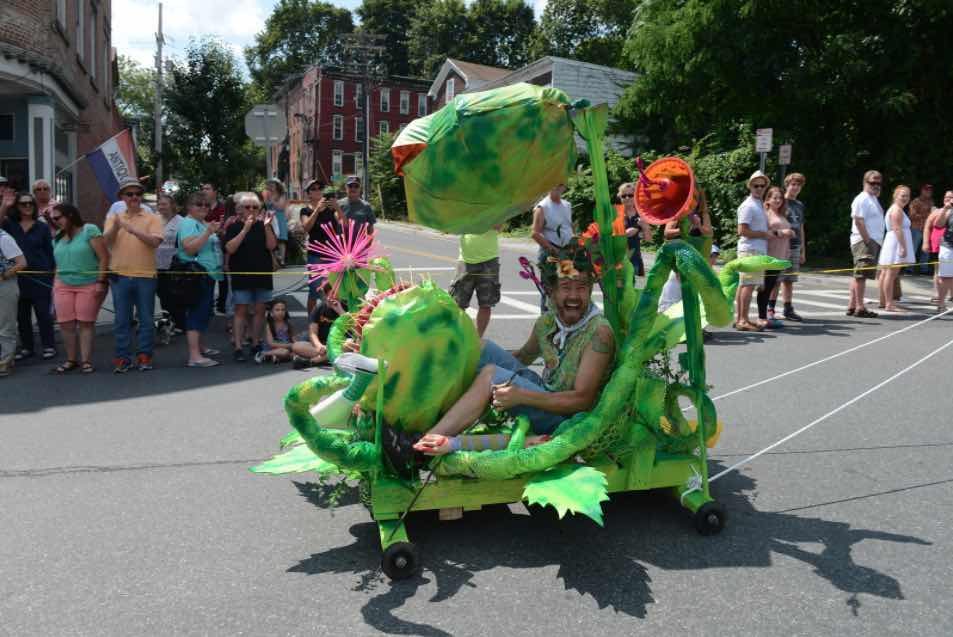 Rondout Reject (aka Horses Ass) Award
King of the Swamp Rats by James Fawcett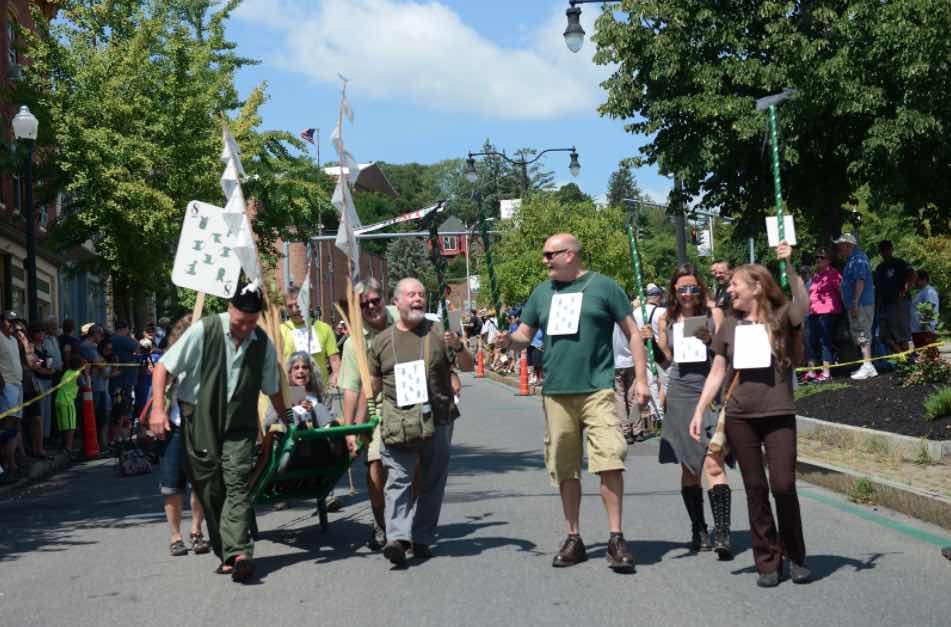 Fun For All!
The Kingston Artist Soapbox Derby, now celebrating 22 years, is a parade of non-motorized kinetic sculptures capable of rolling down lower Broadway in Kingston, NY. It is an event that brings professional artists, the creatively inclined, families and friends together to show off their wild, wacky, and original soapbox creations.
Early in the day participants park their creations along Broadway making final preparations, while thousands of spectators come to watch each car roll down the hill, one-by-one. Vendors and live performances add to a day of fun that concludes with a wacky and entertaining awards ceremony near the Visitors Center, where participants receive prizes and one-of-kind artist designed trophies and spectators have the opportunity to get last looks at their favorite soapbox cars, lined up post-parade on Lower Broadway in front of the Visitors Center.
The Kingston Artist Soapbox Derby is a truly unique family friendly event that promotes the arts and draws participants and spectators alike from far and wide. Beyond the day of the event, the Derby sponsors workshops for participants who need some extra help and encourages local community organizations to join in the fun and build a soapbox car as a team.
The Kingston Artist Soapbox Derby supports the local economy by bringing many new and returning faces to Kingston.
History
For nearly two decades, the Derby was a labor of love for its founder, Donskoj & Company, Each year, George Donskoj and Nancy Schneider Donskoj organized an army of art volunteers to deliver the festival with little budget beyond the cost of prizes. 
The Derby now lives under the umbrella of Hudson Valley Community Productions a 501c3 nonprofit and is run by Sarah Bissonnette-Adler and Sarah Olivieri, the Derby Directors of Chaos! They are joined by a fabulous group of volunteers who are committed to returning the event to it's former glory with a goal of attracting 10,000 spectators and 20-30 entries!