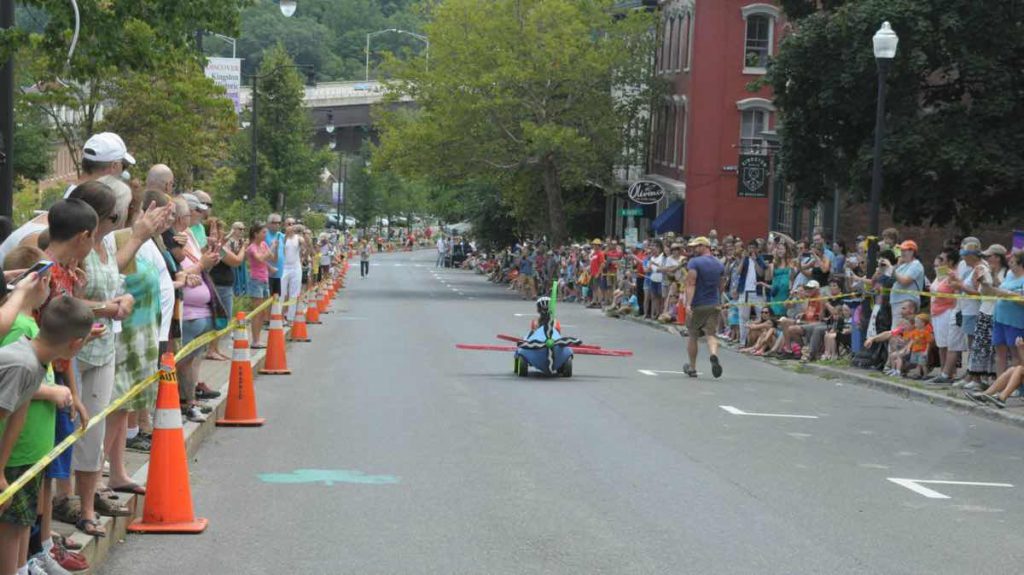 The Kingston Artist Soapbox Derby is a truly unique, family friendly event that promotes the arts and draws participants and spectators alike from far and wide. For thousands of people the Derby has become an annual institution.
Derby organizers are hard at work promoting event participation to artists and creators across the United States, workshops are being held to help people who need assistance with constructing kinetic sculptures, and local community organizations and companies are being encouraged to join in the fun and build a soapbox car as a team! The Kingston Artist Soapbox Derby is also a real boon to local businesses.
By bringing new and returning faces to the area, businesses and nonprofits get an opportunity to support the event while promoting their brand in unique and memorable ways!
Support Us!
Learn more by sending us an email and we'll get in touch.
kingstonartistderby@gmail.com
[x_button shape="square" size="x-large" float="none" block="true" href="https://www.paypal.com/cgi-bin/webscr?business=kitty@historickingstonwaterfront.net&cmd=_xclick&currency_code=USD&amount=10&item_name=Donation%20to%20the%20Kingston%20Artist%20Soapbox%20Derby" info="none" info_place="top" info_trigger="hover" target="blank"]Donate $10 Via PayPal[/x_button]
[x_button shape="square" size="x-large" float="none" block="true" href="https://www.paypal.com/cgi-bin/webscr?business=kitty@historickingstonwaterfront.net&cmd=_xclick&currency_code=USD&amount=20&item_name=Donation%20to%20the%20Kingston%20Artist%20Soapbox%20Derby" info="none" info_place="top" info_trigger="hover" target="blank"]Donate $20 Via PayPal[/x_button]
[x_button shape="square" size="x-large" float="none" block="true" href="https://www.paypal.com/cgi-bin/webscr?business=kitty@historickingstonwaterfront.net&cmd=_xclick&currency_code=USD&amount=50&item_name=Donation%20to%20the%20Kingston%20Artist%20Soapbox%20Derby" info="none" info_place="top" info_trigger="hover" target="blank"]Donate $50 Via PayPal[/x_button]
[x_button shape="square" size="x-large" float="none" block="true" href="https://www.paypal.com/cgi-bin/webscr?business=kitty@historickingstonwaterfront.net&cmd=_xclick&currency_code=USD&amount=100&item_name=Donation%20to%20the%20Kingston%20Artist%20Soapbox%20Derby" info="none" info_place="top" info_trigger="hover" target="blank"]Donate $100 Via PayPal[/x_button]
[x_button shape="square" size="x-large" float="none" block="true" href="https://www.paypal.com/cgi-bin/webscr?business=kitty@historickingstonwaterfront.net&cmd=_xclick&currency_code=USD&amount=200&item_name=Donation%20to%20the%20Kingston%20Artist%20Soapbox%20Derby" info="none" info_place="top" info_trigger="hover" target="blank"]Donate $200 Via PayPal[/x_button]